I really enjoyed my life before the war. After I left my position as National Director of Samaritan Ministries in Ukraine in 2021, I focused on the development of my Green Tours and Volhynian Village Adventure Tours. Every Thursday, I spent time in the Archives doing research and was involved in other meaningful projects. My pace of life was just delightful.
On February 24, 2022 at 5 a.m., I was in my bed when I heard a powerful explosion. I realized that the war, which none of the Ukrainians expected, had started. The Russians bombed a military airport 20 km away from my house.
I woke up my wife and children, told them to pack only necessary things, and do it as quick as possible. I called my brother in Poland to find out how many people they could accommodate.
At 7 a.m., I went to withdraw cash from the ATM. After standing in a line for couple hours, I could only withdraw the equivalent of 100 USD. My attempt to fill up the gas tank cost me another three hours. The first day of the war paralyzed the whole country and brought chaos. The lines at the groceries, gas stations, and ATM machine were huge, and everyone in the line was glued to the screen of their cell phones because the news feed was changing every 30 minutes.
At 6 p.m. the same day, we left for Poland. I took my family, my in-laws, and my friend's wife with her two children in my van. The highways to the Western borders were jammed. Thousands of cars were going to the Western borders.
We spent two nights in the van while waiting in a queue at the Polish border. The scene was like an apocalyptic movie. When we approached the border crossing, I hugged my family goodbye, gave the key of the van to my elder daughter, Evelyn, and went back home. Men between 18-60 were prohibited to leave Ukraine.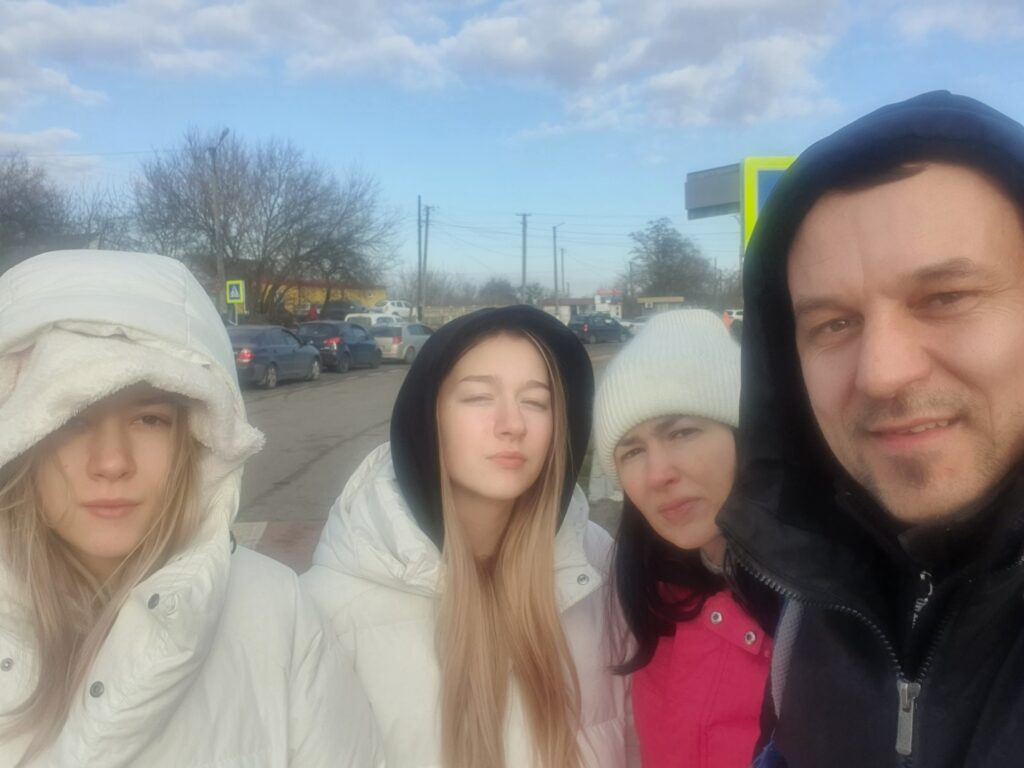 I walked 12 km to the nearest city of Vladimir Volynksyi, where I could flag down a car. In the first days of the war people were very suspicious and scared.
When I came back to Zhytomyr, the city looked absolutely different. It looked like a ghost city. The first thing which shocked me, was seeing the policemen taking down all the road signs to disorient the Russian army which within first week of the war, advanced to the outskirts of Kyiv.
The new reality was upon us: lack of food and empty shelves in the supermarkets, deficit of fuel, curfew, sirens, lots of military in the streets, significantly less civilians, and a lot of check points.
My email was filled with letters of support. I was overwhelmed with gratitude to all my friends, tour members and genealogy colleagues who offered help. Even though I was alone in my house, I felt tremendous support. My Polish friends offered housing for my family, my North American, European and even Australian and New Zealand friends offered money. When people asked how they could help, I honestly answered that I had all I needed. Yet, when I saw so many others suffering around me, I offered to use their donations to help others because the need was so huge.
In the beginning of March, Zhytomyr was bombed several times. The secondary school right in the downtown area of the city was reduced to ruins. This was my neighborhood where I lived for 22 years. The explosion was so powerful that the bricks from the school were in the one of the main squares of the city.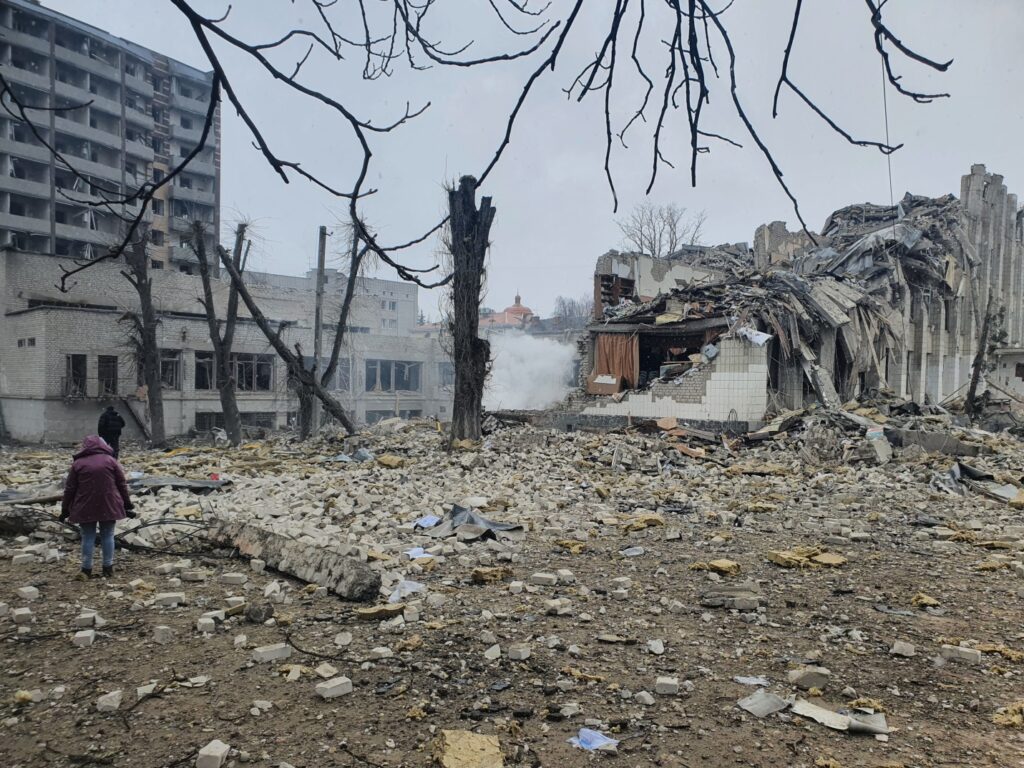 On March 27, at one of the check points in Zhytomyr, I was given an order to show up within 24 hours to the mobilization point in Zhytomyr. I prayed for God's will. When I showed up the next morning at the mobilization center, I was sent to the medical checkup area. At that time, I was put on the back burner as I did not have military experience, and my age was not ideal. Now, as I write this, the situation is different, and I would have been mobilized right away.
I joined Zhytomyr Community Foundation and was volunteering my time and efforts to meet the needs of civilians and military personnel. Everyday brought new urgent tasks. One day, my friends and I helped to build new check point in the outskirts of Zhytomyr. The fights intensified, and the Russians occupied Bucha, Irpen, Gostomel and Makariv. The main highway to Kyiv became a war zone. The fear that the Russians would attack Zhytomyr was real.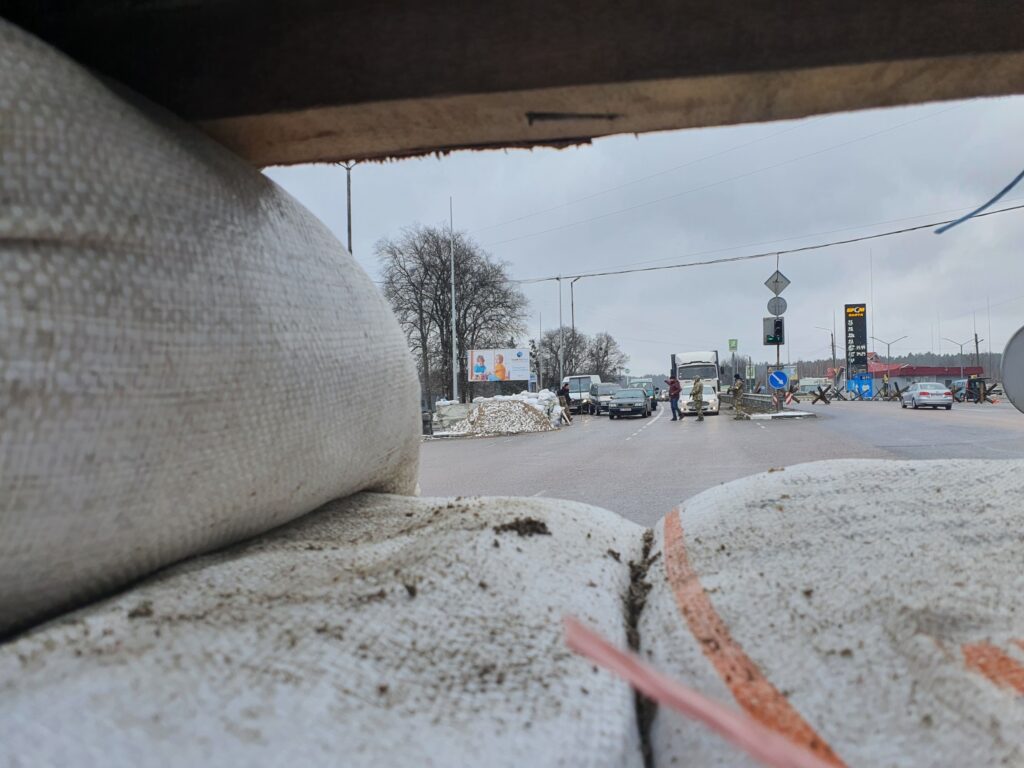 In March, I got an email from my friend, Dr. Judah Slavkovsky, a trauma surgeon from Chicago, who wanted to come and work alongside his Ukrainian colleagues as a volunteer. I went to the main regional hospital to find out how Dr. Judah could be helpful. I was given a tour of the surgery department. The hospital beds were filled with civilians and soldiers from Kyiv and Zhytomyr Oblast. The surgeons lacked almost everything from beds to equipment. The doctors lived in the hospital as ambulances brought new patients every day. I became good friends with Dr. Vitalii, an Assistant Director of the Zhytomyr hospital. He gave me a list of medications and equipment and begged me to help. This is how the donations of my friends started to bear fruit.
In April, my friend and trauma surgeon from Chicago, Dr. Judah, arrived at the hospital in Zhytomyr. I began working with him as a translator attending numerous surgical interventions. It was a whole new world for me. My day as interpreter would start at 7 am in the doctor's meeting room where the Ukrainian surgeons would consult with Dr. Judah. I attended six different surgeries with Dr. Judah, including an open-heart surgery, as his interpreter. Doctor Judah not only brought his skills to us – he brought hope which was just as important. When his Ukrainian colleagues were hugging him goodbye, they could not hide their tears of gratitude.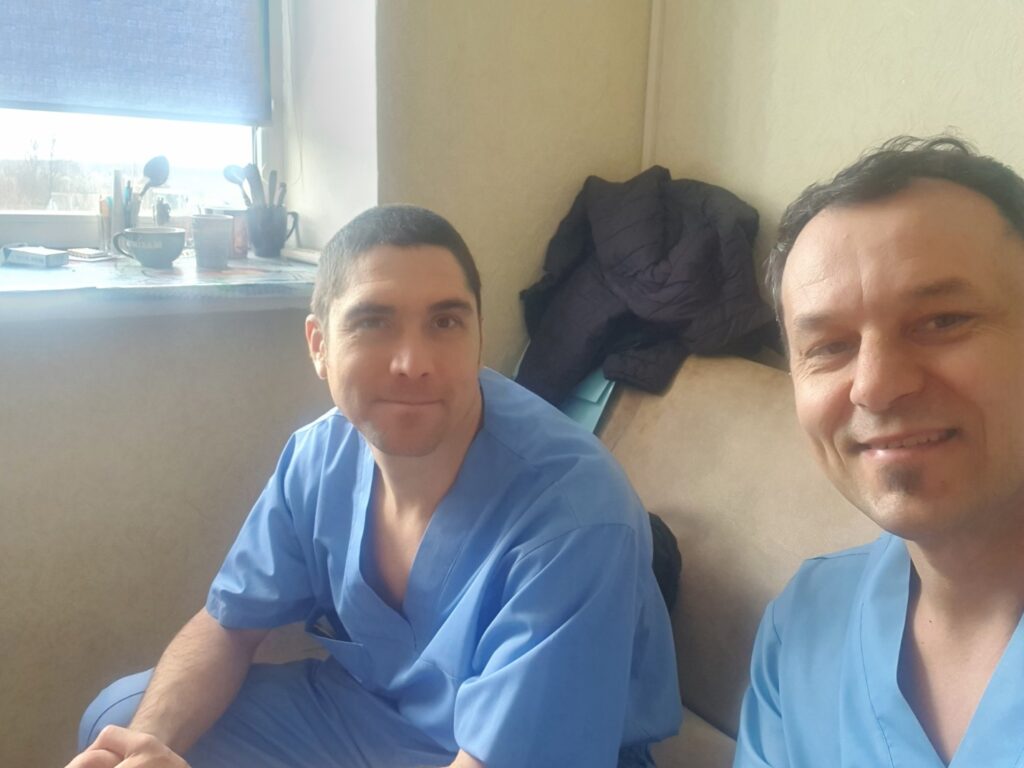 In the middle of April, I was able to travel to Poland. I was let through the border as a volunteer and was obliged to come back in 2 weeks. My main mission was to buy electrosurgical generators, laparoscopic devices, medications, and food and clothing for the soldiers. I arrived right on Good Friday and was gifted by my Heavenly Farther to spend Easter with my family in Lodz, Poland. This was a gift I did not expect! After Easter, I drove to Berlin to hunt for the medical equipment. On the way back, I stopped in Lodz overnight. I gave all my family a hug, promised to come back, and left for Ukraine with the van fully packed.
The month of May brought beautiful weather, but bad news from the front line. The losses of the Ukrainian servicemen were huge. At that time. President Zelenskyi told us that we were losing 200 servicemen a day. The funerals in Zhytomyr were every single day. Freshly dug graves, Ukrainian flags, and grieving relatives. This is how I remember the month of May.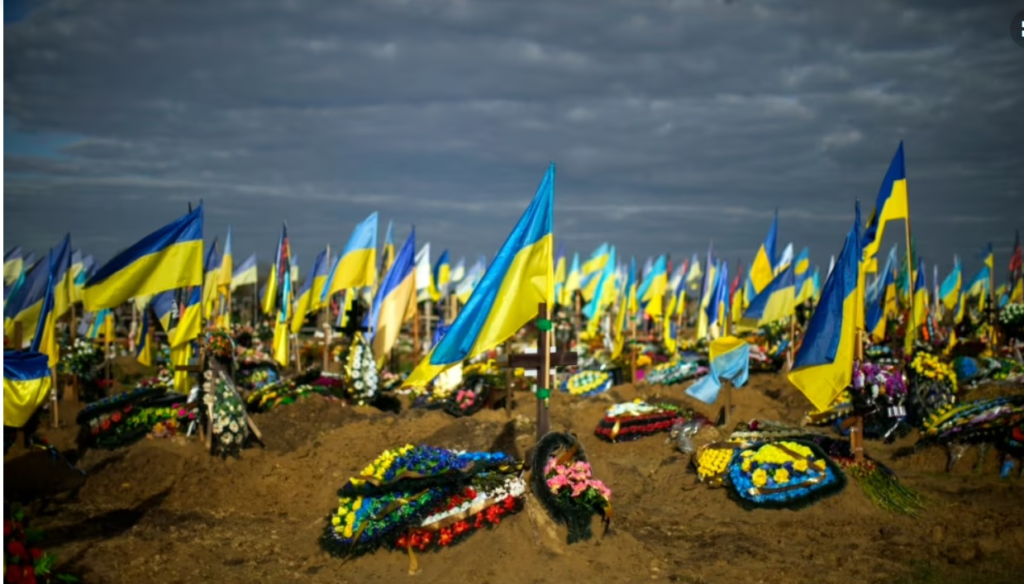 My friend and war veteran, Andriy Zabigaylo, started a mobile chaplain ministry with the help of American friends who helped him to buy a van. Andriy asked me to join him on a visit to his father's unit in the south of Ukraine, not far from occupied Kherson. That was my first experience of being only 10 km from the front line. I saw the real way of life for the soldiers. They invited us for a meal, and afterwards, Andriy shared with the unit his life experience of surviving a leg amputation. He shared how his faith in God helped him to remain positive and continue to serve people.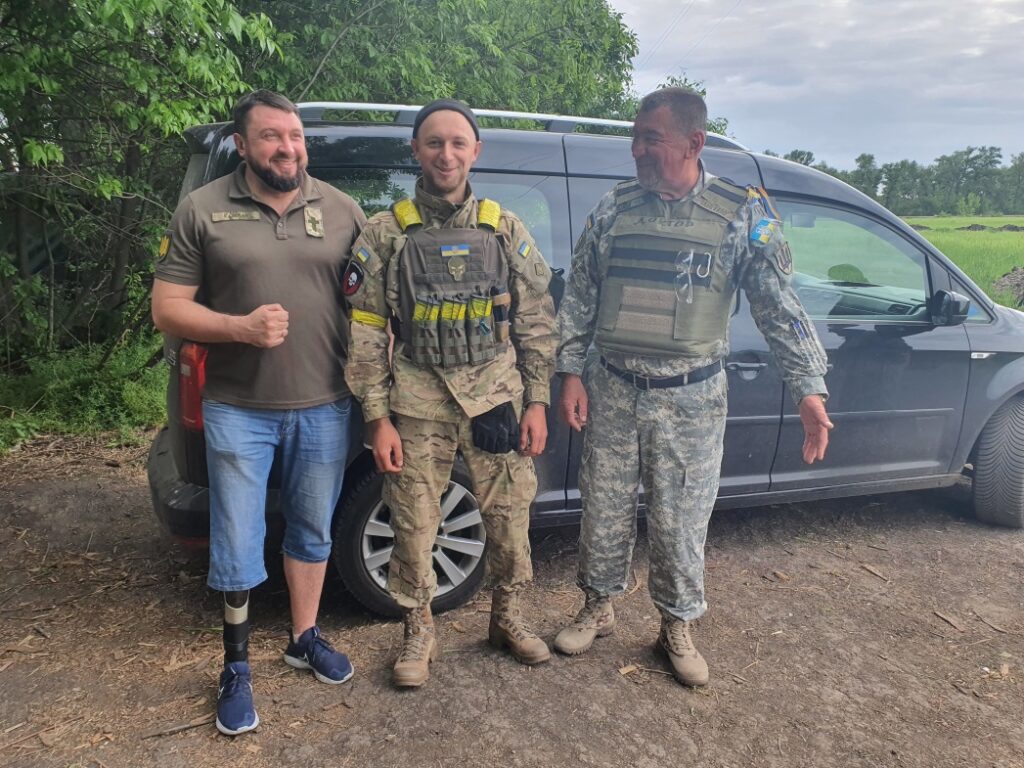 At the end of May and beginning of June, the streets of Zhytomyr resuscitated. More people returned from abroad, and around 10,000 internally displaced people from the Eastern parts of Ukraine moved to Zhytomyr for temporary shelter. I remember a family from Bakhmut, a mother and her teenage girl. They joined a Zhytomyr Community event, a dragon boat race. In June, Bakhmut was 20 km away from the frontline. Now, this city is in complete ruins and is an active war zone where both Russia and Ukraine loose hundreds of servicemen daily.
July was a month of hard decisions for me. At the very beginning of the war (Feb-Mar), I would ask my friends, doctors, and servicemen: "When do you think the war will be over?" I got answers like: "By June the Russians will withdraw the troops and their economy will be crushed under the sanctions." The soldiers from the frontline were less optimistic and told me that the war would likely end in December. This uncertainty, combined with the fact that my wife and two daughters were able to go to family friends in Alberta, Canada at the end of May, and changing policies regarding crossing borders caused me to re-think my position regarding staying in Ukraine. When you have to make such important decisions, you hesitate a lot, pray, and ask for input. I'm so thankful to those who helped me during that time of important decision-making. It was extremely helpful. What follows is how it all unfolded.
From the beginning of the war, I prayed daily to see my family again for Christmas. I had reasonable fears that I would not see them again. Now, between us were thousand miles and time difference. In July, I heard that Ukrainian citizens that have permission to live in EU could leave Ukraine. Because I have Karta Stalego Pobytu (Permission for permanent residence in Poland), I decided to try and cross the border with my Polish documents. It was still a 50/50 chance of making a successful border crossing. The final decision would be made at the particular border crossing point. I remember the morning I left my house in Zhytomyr with my backpack and prayers to see my family again. The weather was very unusual. All the way from Zhytomyr to Lutzk, there were black clouds, strong winds, and heavy rain. It was like a message for me, but at that time I was only guessing if it was a good or a bad message. When I came to the border crossing, it was closed and the border control officer gave me options to stay another 3 hours and wait, or drive South to Lviv oblast and cross the border there.
Another message it seemed – but was it signaling me to stop or proceed? After a short prayer, I drove South. When I approached the border crossing, there were around 30 cars in line. I spent a couple hours in line and saw how Ukrainian border control was turning some men back to Ukraine. Before my turn came and I gave my documents to the border control, I prayed: "Let it be your will Heavenly Father, to let me cross into Poland or to stay in Ukraine." After 40 minutes of waiting, I was given back my passport and the gate arm raised. I shouted, "Thank you Papa!" as I entered Poland.
In August and September, it became clear that the war would last for more than a year. In September, after many intense feelings and discussions with my family, I realized I had to choose between my friends or my family. A hard decision. In the end, I chose to be with my family. This decision started me on a whole new process of immigration. My wife convinced her parents to come with me, and it took me two months of working with officials in Lodz, Poland to get our approval to come to Canada.
On October 5, 2022, I hugged my wife and my daughters again at the Calgary International Airport. My in-laws, their little dog and I, after traveling from Lodz to Warsaw and then to Paris and finally to Calgary, completed the long and uncertain journey from Ukraine to Canada.
My prayers were answered. On Christmas Eve, 2022, my family was sharing Oplatek (Christmas Waffle) saying to each other "Let it be God's will to see each other again next year." That was our first Christmas in Edmonton, Alberta.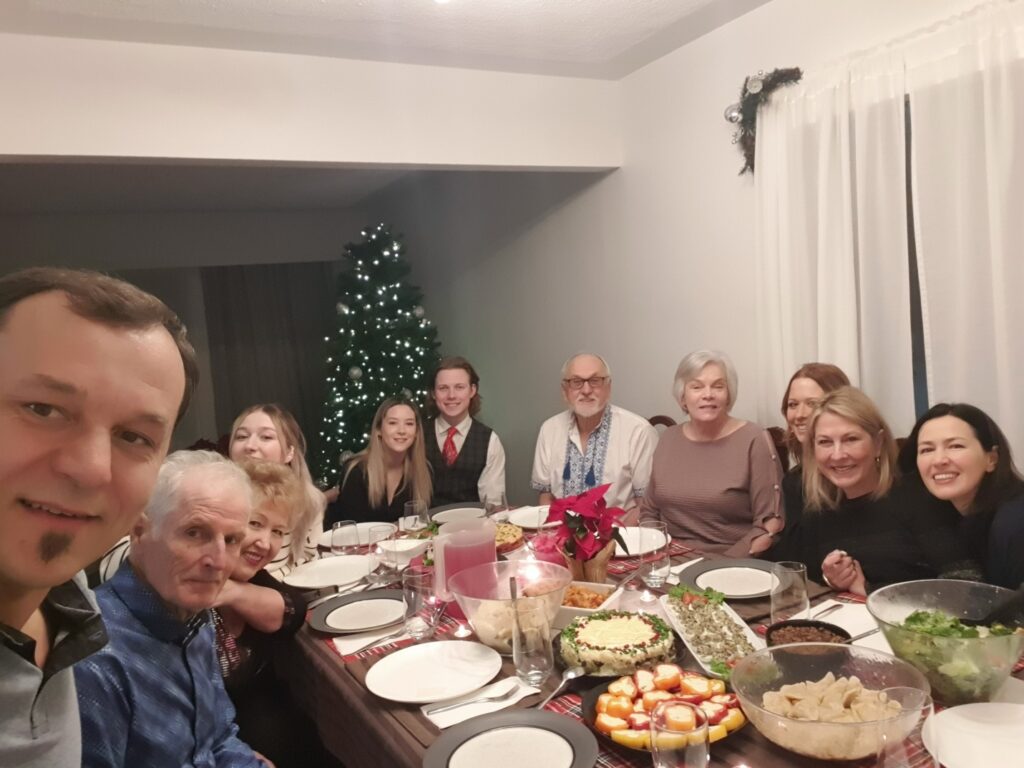 The first couple of months were difficult for me in Canada. Not because my first job with Amazon required me to work 10-12 hours a day, but because it was hard emotionally. With today's technology I keep tight communications and connections with Ukraine and Poland. However, my feelings of guilt restricted those communications. I could no longer eagerly answer those emails and questions. I felt so blessed to be away from war and to be with my family, yet I also felt guilty because so many Ukrainians families have been divided forever.
I wanted to find ways to help my fellow Ukrainians, even from Canada. I remembered, that on the first day of the war, my Polish colleague from Polish Origins, Zenon Znamirowski, reached out to me and offered his help. He helped me a lot to get Motorola radio systems from Australia to some units in Ukraine. His participation was very significant. I also want to acknowledge Poland and the Polish people for being true neighbors and Good Samaritans. They opened their homes and hearts for millions of Ukrainian refugees.
I spent quite a bit a time with Zenon discussing how we could use our resources, skills, and experience to help Ukraine. We both love history and both provided genealogy tours. So, we decided to start a foundation to give Ukrainian teens a respite from their traumatizing war environment and give them educational tours in Poland. We call ourselves the Polish-Ukrainian Origins Foundation, and we identify our mission as:
"Providing educational experiences, therapeutic programs, respite from the effects of war, and peer connections for Polish and Ukrainian teenagers, empowering them to build their future with mutual respect, understanding, and support."
I remember when I was 14, the Soviet Union dissolved and I visited Poland for the very first time. Our parish priest organized a tour of Poland for 40 young people. This was a very significant event in my life; in many ways it was a transformative and eye-opening experience.
Because of my own life-changing experience, I am confident that visiting Poland with our "History, Healing, and Hope" tour will support Ukrainian teens emotionally and help them to build strong connections with their good Polish neighbors. In several years, these teens will be decision-makers in Ukraine, so now is the time to broaden their perspectives and facilitate the healing process. If you are interested in more details about our foundation and its work, and would like to support our vision with donations please visit: https://puorigins.org.
Sincerely yours,
Alex Brzhezytskyi
Vice President of the Polish-Ukrainian Origins Foundation